Transcribed Solos
Farewell Blues
(transcription by Mike Pittsley)
This is Abe's introduction to Farewell Blues, recorded in 1962 on Coral Records CRL 757389, a session with Pete Fountain and Al Hirt. Personally, I feel it is one of the hottest and most exciting introductions ever recorded by any traditional jazz trombonist. It just doesn't get any hotter than this!
For reasons that are unclear, only the last four measures of this introduction actually made it onto the Coral Records album. The first 16 measures were cut. It is presented here uncut and in its entirety. Enjoy!
Update 8/1/2009 - Thanks to A.J. Lincoln for providing the following new information: Abe originally recorded this introduction in its entirety on Southland Records SLP-LP 215. The liner notes (by San Diego record collector and jazz authority, Art Anderson) are dated October 7th, 1956. The Coral Records album cited above is a compilation with reissued cuts from the Southland Records Album.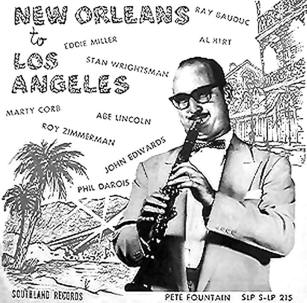 This text will be replaced by the flash music player.